Five Factors to choosing a perfect Goods Lift   
We often come across this sign board, this lift is meant for goods or goods lift in certain corporate towers or hotels. As indicated by its name, these specially designed lifts are designed and engineered for moving different types of goods vertically.
With the advent of technology, goods lift manufacturers are coming up with innovative designs that further the cause of goods movement in different setups, including hospitals, corporate towers, factories, hotels, etc. Goods lift is also famous as cargo lift or cargo elevator.
But how to choose a perfect Goods lift? Any idea? Many people and companies struggle to choose a goods lift for their premises. In this blog, we are going to highlight a few factors and tips to choose the perfect goods lift for your premises from the best lift elevator supplier.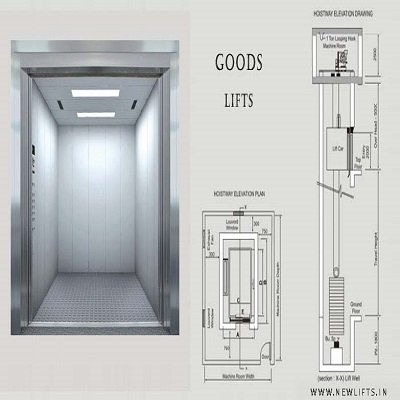 Identify your exact needs and specifications
This is the first and foremost factor you should consider while buying the goods elevator in Ahmedabad, India from lift elevator accessories suppliers and manufacturers. What kind of tasks and challenges do you want your lift to carry out? What types of goods are going to be moved between floors? These things will help you to determine the exact specifications for your lift.
Load capacity requirement
Once you have defined the first factor as mentioned above, can move towards the next factor, the load capacity of the lift, you are all set to procure from a famous elevator parts supplier. Estimated weight per day to be moved by the lift should be considered. It determines the load capacity required for your lift. Every business owner has a general idea about the average load to be moved at a time and in a day.
What distance your goods and material are going to cover?
This is again an important factor. You should share with the goods lifts manufacturers, what distance your goods and materials are going to cover. This factor will decide the structure, size, and position of your cargo elevator within your corporate tower or a prominent multiplex you are planning to build.
Space for installation & commissioning
Once you have decided to buy a cargo lift from a lift elevator accessories manufacturer, don't forget to ensure that your premises have enough space to install, commission, and operate the lift. Here we would like to share a suggestion – have your building and premises checked out by a few lift manufacturers. Elevator engineers upon inspection and survey will give you a detailed report, highlighting important factors, like the suitability of the building to accommodate the lift and availability of space.
Does your premise require automatic doors?
Goods lift manufacturers are engineering different types of goods lift. Design essentially depends on facilities and comforts. A few lifts are designed with automatic doors with many other automated facilities, like opening and closing of the door. While many lifts have manual collapsible doors.
Conclusion
We hope this blog will expand your knowledge about the goods lift and how to choose the ideal goods lift for your building. The market is filled with numerous goods lift manufacturers and lift elevator accessories. Only choose the lift manufacturer that holds vast experience in this field.